The question on most of our minds is probably who are Kid Ink and Tep No. I know I for one find myself asking this more and more in the days leading up to one of our favorite holidays of the year. So, if you are just dying to know, keep reading for a little more information on our Springfest guests.
Hailing from Los Angeles, California, Kid Ink, known as Brian Todd Collins off the stage, is a 31-year-old hip hop artist. Some fun facts about him: he has 27 tattoos he got after becoming addicted after his first one at 16, thus explaining his name, and his favorite ones include the ones of his mother and grandfather on his chest. I would have never guessed this about him, but Kid Ink has been engaged to fitness model Azante since June 2015, and last February the couple had a baby girl. Hip hop must run in the family, because his younger brother Juliann Alexander is also a hip hop artist.
So, what about his music? Unknown to me and probably most of you, he is actually pretty big — I mean, he does have 2.6 million followers on Twitter. He is most listened to in Los Angeles, London, Manhattan, Chicago, and Houston, determined by Spotify. Kid Ink has worked with Usher, Chris Brown, Childish Gambino, A$AP Ferg, Meek Mill, Tyga, and many other artists. He first started out in 2010 by releasing a series of mixtapes that got him listed on XXL magazine's Freshman Class feature for 2012. In that same year, he released his first album and went up from there. Ironically, the album was named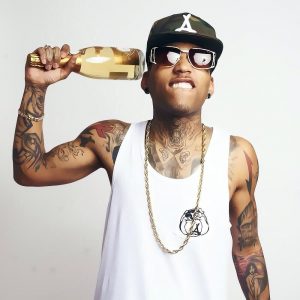 Up & Away.
With five albums in total, Kid Ink has had some good success in his career. He most recently released the song "F with U" on April 7, so it is safe to guess we will hear that. The song that most people will recognize from him is most likely "Promise," but most of the songs from his album Summer in the Winter we have probably all heard at some point without realizing who they were by. Some of these include "Rewind" ft. Akon, "That's on You," and "Time Out." Some other good ones to check out before the concert from his earlier albums are "Hello World," "Show Me," and "Hell & Back."
Aside from hip hop, we can also get excited for some dance/electronic music from opener Tep No. All that is known about this artist is that he is a Canadian producer who started dropping songs in 2014 without revealing anything about his background or identity. Sounds kind of sketchy, but for three years whoever he is he has managed to keep his life out of the eye's of the world. Even trying to find a picture of him in Google images serves a challange.
The top listeners for him are Mexico City, Santiago, Manhattan, Los Angeles, and Toronto, according to Spotify. He does not seem quite as popular as Kid Ink, but I have a feeling our dance/electronic needs will be met.
Tep No does not have any albums, but rather releases a bunch of singles periodically throughout the year. Most recognizable would be "The Best Crew," which you probably find yourself jamming to in the car with the windows down. Beside that, I cannot say that I recognize any of the other songs.
Other top listend to ones on Spotify include "Is it too Much That I'm Asking For," "Karma, You Got Owned," and "A Different You." The latest release is "Wild Ones," which Tep No collaborated with Lucky Rose, released March 24. Aside from that "The Best Crew," the only other one that appears to have the sound to get the crowd going on its own would be "A Different You."
Based on my listening, while there are more songs than I expected to enjoy, I am still curious to see how the concert will play out. Many of the Tep No's songs have chill beats that are good for driving around and Kid Ink's feel is good for throwing back a few beers during the pregame. In my opinion I do not think either have enough of their original songs that will get the crowd going in a concert sense. I feel like there will have to be a reliance on remixes to really get it bumping, but only time will tell.
For now, just kick back and hold out for 24 more hours. Plan out your outfits, but more importantly make sure to plan out your breakfast and brunches. Fire up your Spotifys and get in tune with the music we will be jamming to on Saturday. I can say that after doing some deep listening I have much higher hopes. Remember, doors open at 3:00 so you have plenty of time to get ready (with some pacing, of course) until the first band goes on at 3:30. Let us stay optimistic and get ready to check another Springfest off the books (or try if you are 0-3). See you Saturday, Saints.