By, Noa Graham
This review is all about DAMN. The title speaks for itself. If you love any of Kendrick's previous work, or if you have any appreciation for the hip-hop mega-genre, you'll find something to enjoy here.
First of all, we're seeing a fairly simple cover. The album's title, DAMN., in crimson red, overlaid on an image of Kendrick himself, accompanied with the parental advisory sticker. Kendrick wears a plain white shirt, and his background is a ceramic brick wall painted scarlet. It's urban, it's fashionable, it's aesthetically tasteful, and presented cleanly! This album cover differs greatly from previous ones. Prior to this, Kendrick's covers have always been a symbolic image of the album's subject. This time, the cover is the object itself: Kendrick and his words of the soul.
Judging by the cover, one can have no doubt that this is a Kendrick album. Kendrick's pose and gaze are a point of ambiguity. While his positioning and expression do seem thematically intentional, it doesn't make sense to discuss them at this point of the review. A first glance at this album doesn't reveal much, but once you've listened to it, the cover is a reflection through which you will see the Kendrick in yourself.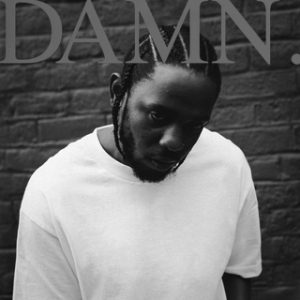 Inside are 14 tracks that make up a total of 55 minutes in listening time, which is on the short side of a typical Kendrick album. Keep in mind that 14 tracks over about an hour, with no track playing longer than 7 minutes 41 seconds, is fairly concentrated content. To Pimp a Butterfly totaled 1 hour and 19 minutes, and good kid, m.A.A.d city totaled approximately 1 hour and 24 minutes (not including bonus tracks). Each album had multiple songs that were over 5 minutes 30 seconds long. DAMN.'s second longest running track is 5 minutes 8 seconds, with 4 minutes 35 seconds being the third longest track listing. I found that this made each song feeling short and sweet, neither indulging nor neglecting any particular sound. The album stays fresh the vast majority of the time; I can't imagine myself skipping a single song half way.
I refrain from covering particular songs, because each one is of indisputable high quality. However, note worthy songs for careful listening include "DNA.," "PRIDE.," "HUMBLE.," "LUST.," and "XXX." Each one is an excellent example of the great leaps and bounds that Kendrick has taken in his production. "LUST." is co-produced by BadBadNotGood, "PRIDE." co-produced by Steve Lacey, and "XXX." features U2. The variety in Kendrick's collaboration is a testament to the progress he's made to his brand. These songs are on my shortlist for Grammy Awards, not that I have a say.
Overall, the album is a musical collection that utilizes all of Kendrick's work into a new soundscape for an already versatile genre. DAMN. dismantles all of what makes good Kendrick albums into a reinvention of the K-Dot sound. The album is an introspective mirror of the artist's soul. One can never be Kendrick, but thanks to the introspective lyrics we attain at least some sense of his LOVE. and FEAR. This was yet another journey into the soul of Kung-Fu Kenny.